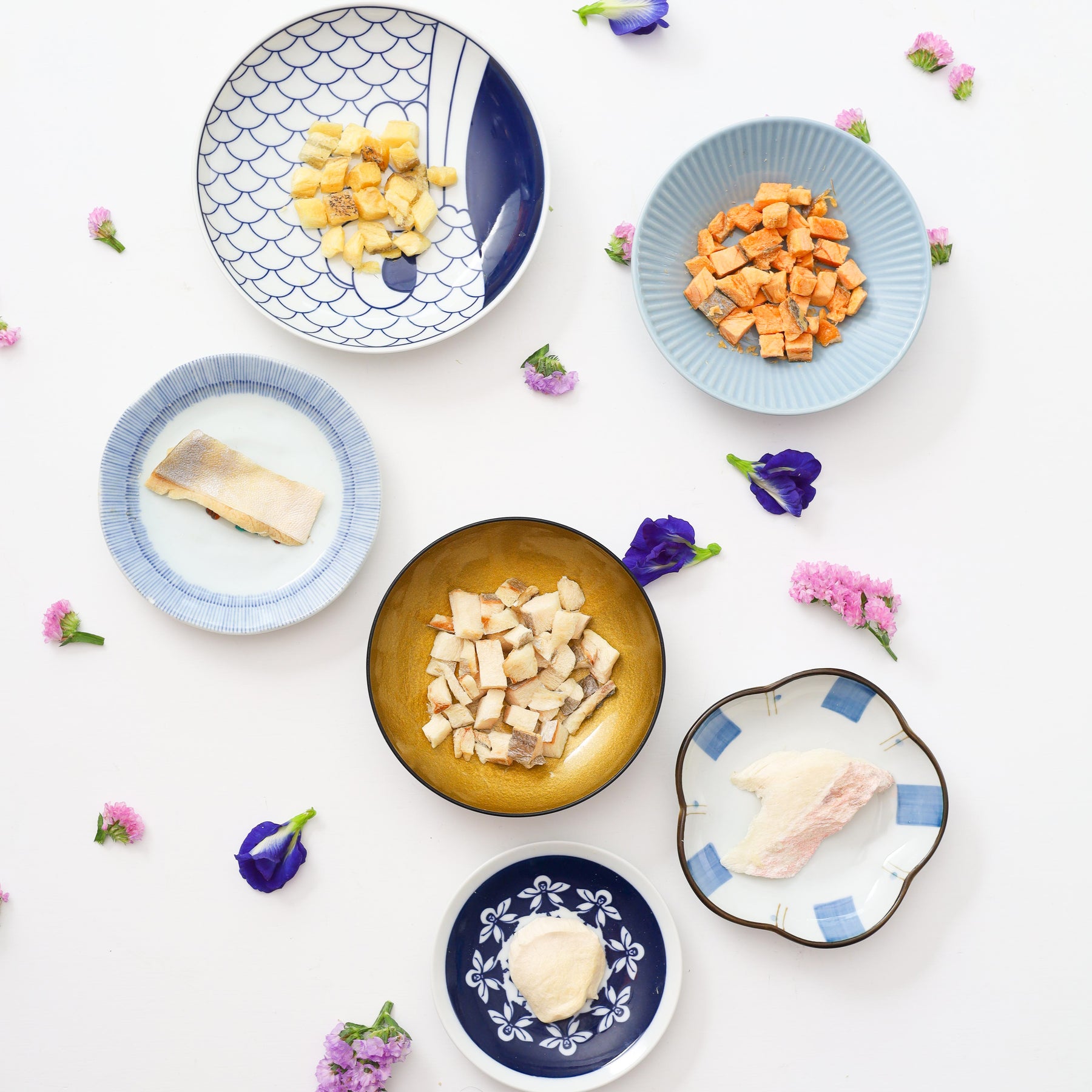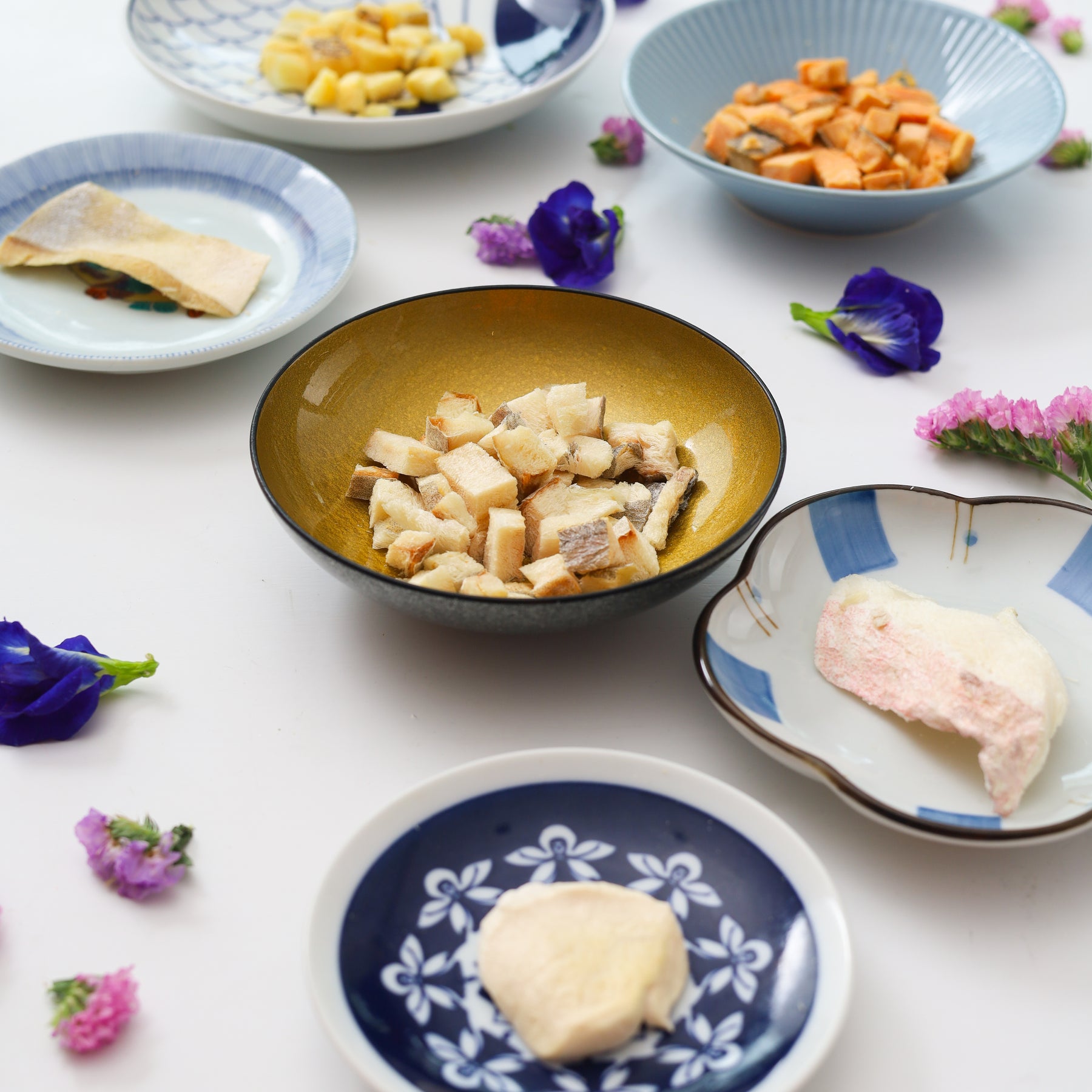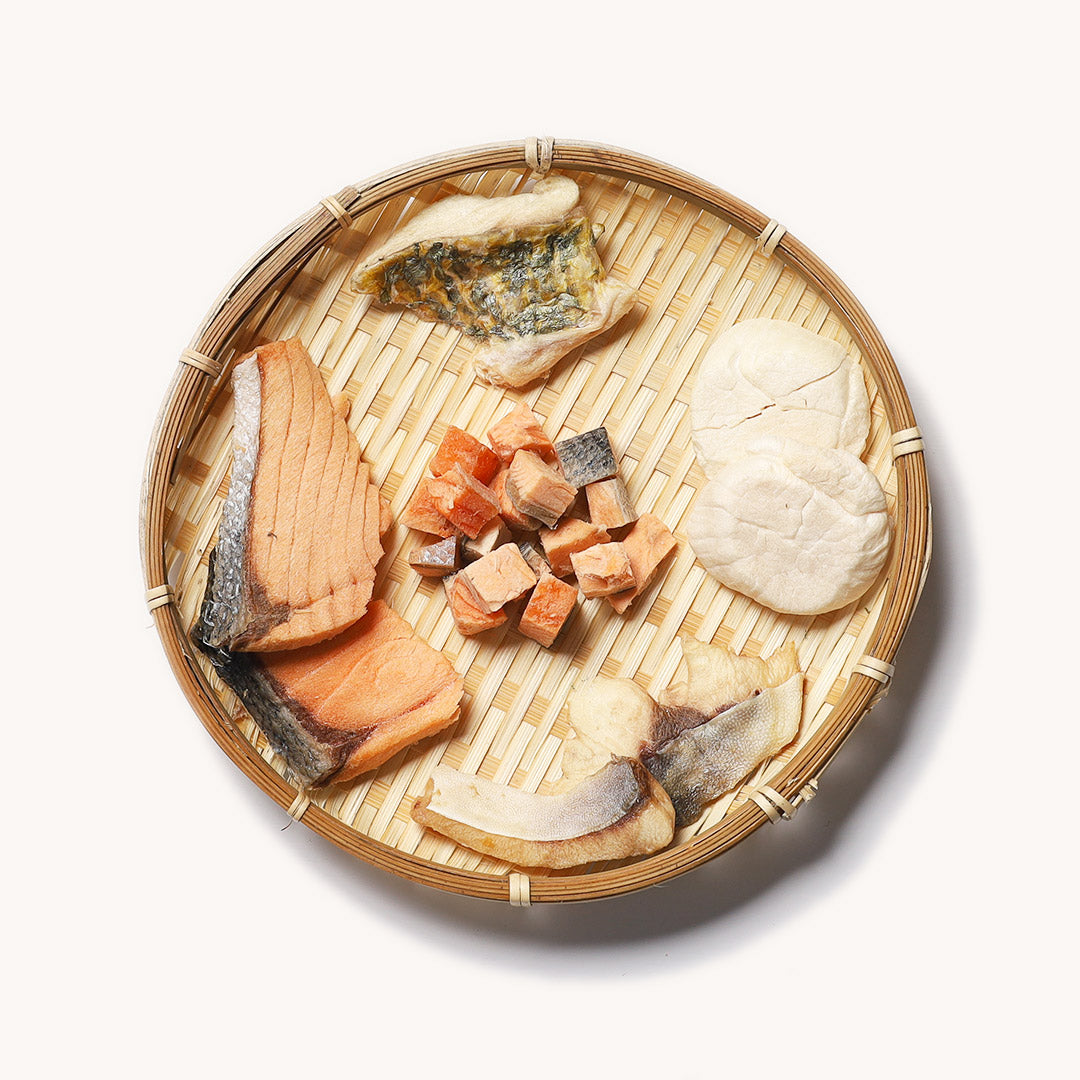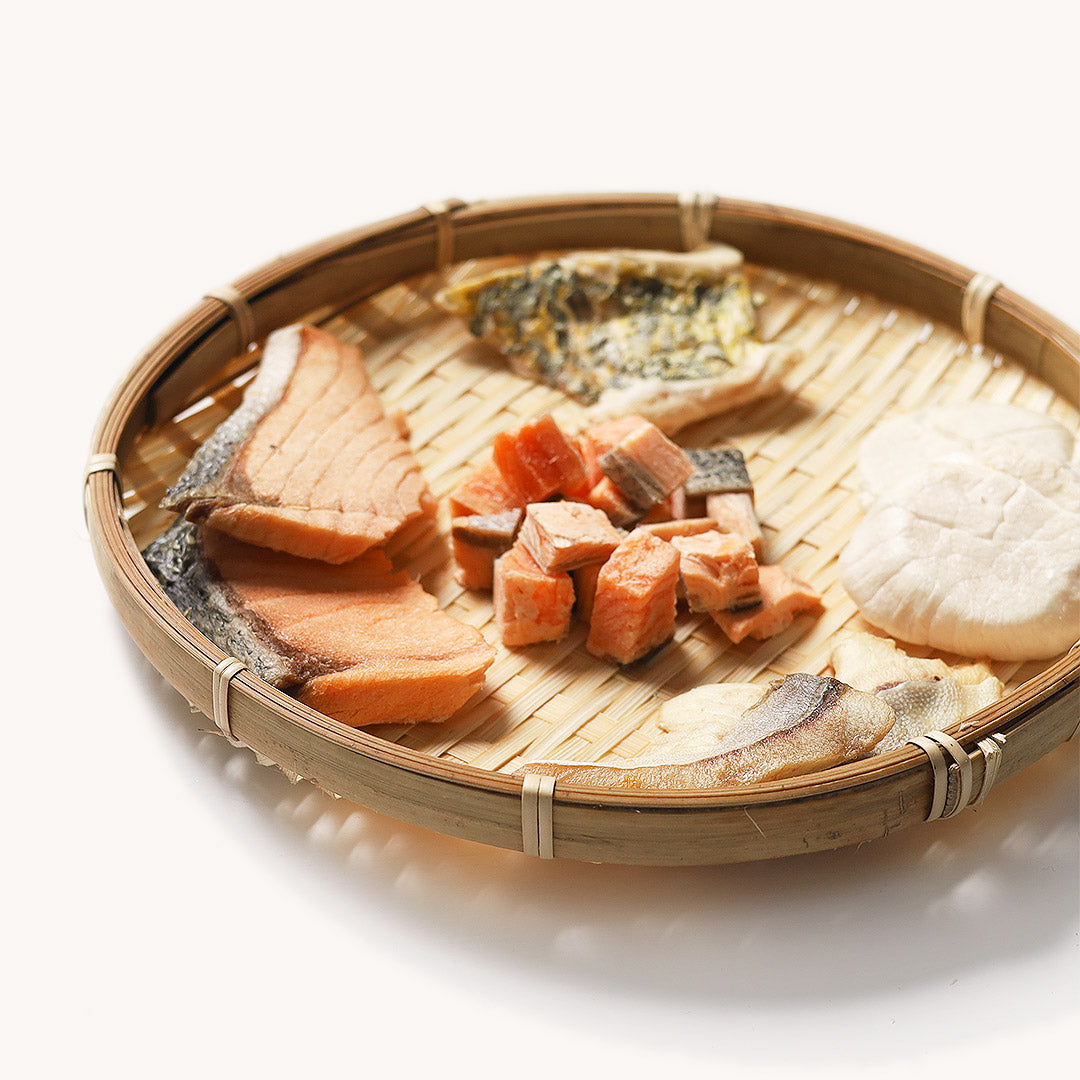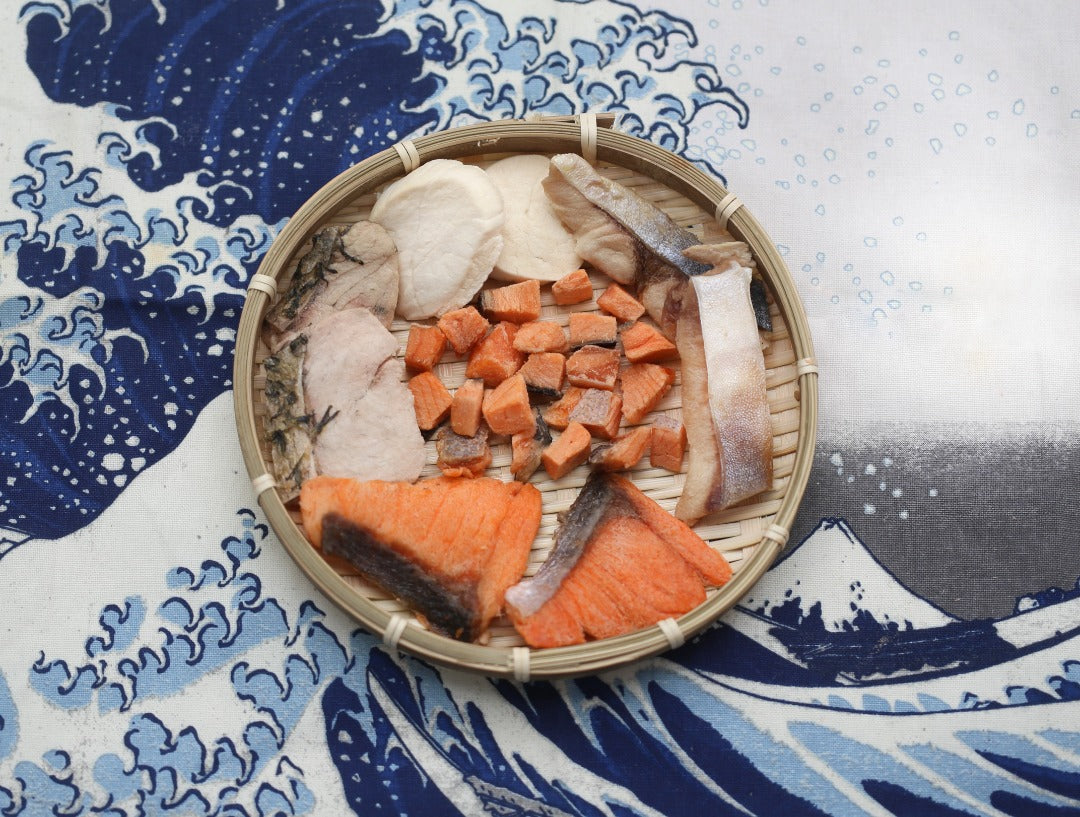 Ocean Box
The Ocean Box is one of TAKI's Favourite items.
In this set, we're introducing the world's first freeze-dried Pomfret, TAKI's Teochew special. Alongside our Pomfret, you'll find Barramundi, another new & exclusive item, King Salmon, Salmon & Scallops.
What's in the box?
2 X Pomfret 
2 X Barramundi OR Ling Cod (Due to seasonal availability)
2 X King Salmon
2 X Halibut
2 X Scallops
2 X S.Blue Whiting
Pomfret is a good fish for dogs to eat. It is a white fish that is low in mercury and has a high protein content. It is also a good source of omega-3 fatty acids, which are beneficial for dogs' skin and coat health.
There are many benefits to feeding your dog barramundi. It is a very healthy fish for them to eat and will provide them with many of the nutrients they need. 
Salmon the fish as an option for your dog 's diet. Salmon is a fish with a lot of omega-3 fatty acids in it, which are good for your dog's coat and skin. It can also help to improve your dog's joint health. You can give your dog salmon as either a treat or add it to his regular food. 

Ling cod is a species of fish that is sometimes used as an ingredient in pet food. This type of cod is typically found in the waters off the coast of North America. While ling cod is not a particularly common ingredient in pet food, it can be used as a source of protein and other nutrients.
Scallops are not often used as pet food. Our Freeze Drying process makes it easy to lock in the nutrients for your pet. Easy to consume and can also be hydrated back to a moist state.

Southern Blue Whiting is rich in vitamins A, B12 and D; along with niacin, thiamine, selenium and iodine are key for improving resistance and providing natural support to help keep their immune cells functioning at their best. 

 12 Convenient Individual Packets | Can Be Rehydrated
Pickup available at Online Store
Our operating hours are 10am to 6pm, Wed to Sun.
Online Store
Pickup available, our operating hours are 10am to 6pm, wed to sun.
34 Siglap Drive
34
Singapore 456159
Singapore
+6597568191
Ralph Waldo
"Live in the sunshine, swim the sea, drink the wild air."
Proudly Made In SG
Our Barramundi, raised right here in Singapore's open waters, are raised from Australian Barramundi juveniles. Extra care is taken at each step to ensure they are raised without any toxins, growth hormones or antibiotics. Just good ole fresh waters and rich ocean nutrients.
A World's First
The idea came to us while we were enjoying a traditional Teochew dinner. After months of research & development, we are proud to present TAKI's Teochew Special. From the rich waters of Penang, this treat is filled with the sweetness of the ocean.
Goodness of the Seas
This box set is bursting with nutrition that is great for your furkids.
Essential fatty acids, such as Omega 3, trace minerals and vitamin A, D & B, will help your furkids develop and maintain healthy brains, decrease dementia risk and boost immune system.
Safe Waters
Farm waters from the local Barramundi farm are independently sampled and tested every 10 minutes.
This helps to keep the fishes and its surrounding eco-systems healthy and safe; making sure future generations can continue to enjoy great tasting, and healthy fish.