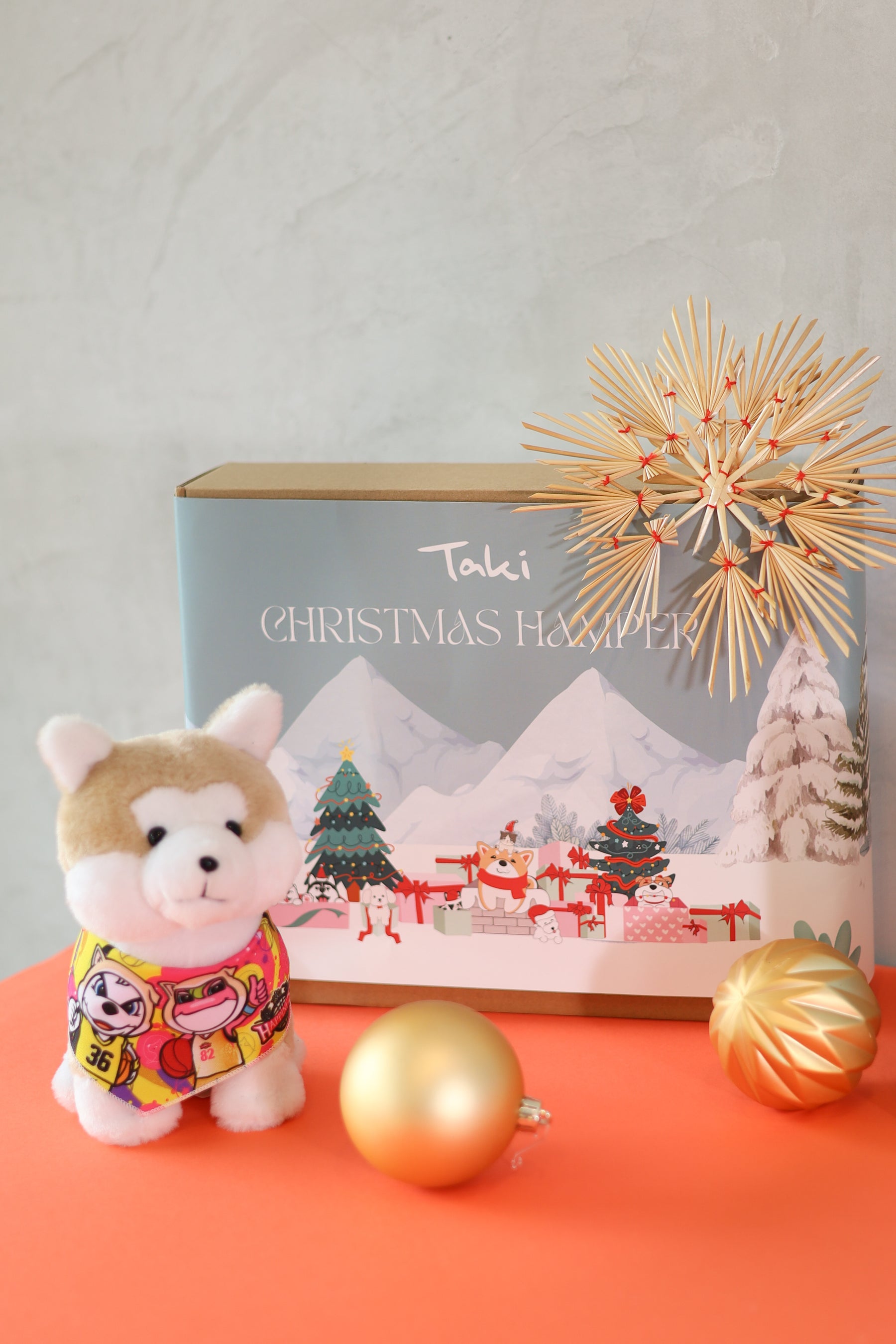 TAKI Christmas Hamper 🍕Michelangelo's Christmas🍕
Welcome to TAKI's Tropical Island this Christmas! 🎄
Michelangelo's Christmas
Italy, the Sistine Chapel, Michelangelo; food & wine, artistry, la dolce vita.
These are the inspirations for our most lavish Christmas hamper, for furkids and hoomans to enjoy together.
Furkids enjoy our Winter Wonderland hamper with an ultra-luxurious Niigata A4 Snow-aged Wagyu, two more kinds of Wagyu beef from NZ and Australia, an Aberdeen Angus, a spread of our favourite meats, seafood and meals, TAKI's Tote bag, and an exclusive Christmas ornament.
Hoomans feast on an exclusive Panettone Milano sent by friends from Italy—a luxurious, off-market limited edition by Rusticella d'Abbruzzo—plus a festive bottle of bubbly Prosecco.
Packed in a handsome wooden wine crate, we pull out all the stops this Christmas, and celebrate la dolce vita with furkids.
Happy Holidays from ours to yours—peace, health, and love!
---
What is in this hamper for hoomans: 
Panattone Milano*, Rusticella d'Abbruzzo, Limited Edition 2023  x 1 piece 

Prosecco**, Astoria Cuvèe Lounge x 1 bottle 
What's in the hamper for furkids: 
Niigata A4 Snow-aged Wagyu x 1 packet 
Aberdeen Angus / Argentina Chuck x 1 packet 
New Zealand Wagyu Cubes x 1 packet 
Wagyu Beef x 1 packet 
Red Grouper x 1 packet 
Turkey Breast x 1 packet 
King Salmon x 1 packet 
Scottish Salmon x 1 packet 
Kangaroo x 1 packet 
Venison x 1 packet 
Pork x 1 packet 
Hokkaido Scallop x 1 packet 
Halibut x 1 packet 
Southern Blue Whiting x 1 packet 
Duck x 1 packet 
Taki Bouillabaisse x 1 packet 
Taki Burgundy x 1 packet 
Taki Tote Bag x 1 piece 
Christmas Ornament x 2 pieces 
---
* Disclaimer 
Please do take note that
for any orders placed after 18 December 2023, we cannot 
guarantee delivery of the Christmas Hamper before Christmas Day. Self-collection is possible. For any enquiries, please contact us via Whatsapp at 
8651 2868.  
---
*Panattone Milano, Rusticella d'Abbruzzo, Limited Edition 2023
With its characteristic shape, Panettone is the specialty Christmas cake of Milan with an ancient and noble tradition. Technically is is a type of sweet bread loaf, it is made during a long process that involves the curing of the dough, which is acidic, similar to sourdough. The proofing process alone takes several days, giving the cake its distinctive fluffy characteristics. It contains candied orange, citron, and lemon zest, as well as raisins, which are added dry and not soaked.
Special ingredient for making this high quality Panettone is natural sourdough starter yeast, a mixture of flour and water. Each day throughout the entire year (including holidays), 10 kg of dough known as the Starter is prepared. It is composed exclusively of flour, water and 1 kg from the previous day's Starter.
Wrapped in premium paper with unique design and pendant to make it the perfect Christmas gift, this luxury version will make your festive meal truly magical
**
Prosecco, Astoria Cuvèe Lounge
Light, refreshing, fruity and fun, Prosecco is the sparkling wine that's perfect for holidays. Made from prosecco grapes in north-eastern Italy near Venice, the grapes are first fermented to make white wine, then undergo a second fermentation in tanks with yeast to achieve their happy bubbles
The fruit for our Prosecco, Astoria Cuvèe Lounge, is sourced from the estate's vineyard "Val de Brun" in the rolling hills of Veneto just north of Venice
Very fine and persistent. Straw yellow in color with greenish reflections. Floral aromas, along with generous amounts of pear and crisp apple. Creamy, full, and harmonious on the palate. Serve this very well chilled to enjoy its flavour and bubbles
Date of Delivery:
4-10 Dec
Pickup available at Online Store
Our operating hours are 10am to 6pm, Wed to Sun.
TAKI Christmas Hamper 🍕Michelangelo's Christmas🍕
4-10 Dec
Online Store
Pickup available, our operating hours are 10am to 6pm, wed to sun.
34 Siglap Drive
34
Singapore 456159
Singapore
+6597568191
Ralph Waldo
"Live in the sunshine, swim the sea, drink the wild air."
Proudly Made In SG
Our Barramundi, raised right here in Singapore's open waters, are raised from Australian Barramundi juveniles. Extra care is taken at each step to ensure they are raised without any toxins, growth hormones or antibiotics. Just good ole fresh waters and rich ocean nutrients.
A World's First
The idea came to us while we were enjoying a traditional Teochew dinner. After months of research & development, we are proud to present TAKI's Teochew Special. From the rich waters of Penang, this treat is filled with the sweetness of the ocean.
Goodness of the Seas
This box set is bursting with nutrition that is great for your furkids.
Essential fatty acids, such as Omega 3, trace minerals and vitamin A, D & B, will help your furkids develop and maintain healthy brains, decrease dementia risk and boost immune system.
Safe Waters
Farm waters from the local Barramundi farm are independently sampled and tested every 10 minutes.
This helps to keep the fishes and its surrounding eco-systems healthy and safe; making sure future generations can continue to enjoy great tasting, and healthy fish.